SeniorLife Communities
Our SeniorLife Communities offer a full continuum of care with independent living, assisted living, and nursing care. It's a structure most recognize as a continuing care retirement community (CCRC) or life plan community.
However, we often wonder why it's called "retirement." The senior population is such an active one — you travel, volunteer, work, serve in community leadership roles, and share lifetimes of wisdom and knowledge.
At Otterbein, we don't see any reason why that should stop after you move in. You'll find endless outlets for your energies, have an opportunity to make new friends, and enjoy a lively, active community.
When it comes to comfort and security, all nine of our SeniorLife Communities offer a wide choice of houses, apartments, and assisted living — with friendly, compassionate, care as you need it.
If you live in Ohio, you're not far from our Otterbein SeniorLife Communities. Explore our communities online below and schedule a visit to see them for yourself.
Wellness Services at Your Doorstep
If you live at one of our nine SeniorLife Communities, our wellness services may be available to you. We offer a variety of services from personal care and companionship to routine wellness checks and skilled nursing care. Rest assured that all the individuals providing services are our very own trusted Otterbein staff.
The charges for these services remain reasonable because we want to make them accessible. For example, skilled nurse services can be requested by the hour, or by 15-minute intervals. Why pay for more than you need?
At-home wellness services include:
Personal care and companionship
Wellness checks
Skilled nursing care
Homemaker services such as meal preparation and light housekeeping
Transportation to and from doctor's appointment
Medication management and medical equipment assistance
Nurse visits in response to emergency requests
Communication with family when necessary and appropriate
Otterbein SeniorLife Community Locations
Cridersville
Senior living at Cridersville offers a wonderful town-and-country lifestyle. Enjoy relaxing wooded hills and lakes, with plenty of opportunities to get inspired by arts, culture, socializing, and sight-seeing.
Franklin
Live life at your own pace at our Franklin community, with an invigorating atmosphere and a host of amenities and services. Rest assured, all your current and future needs will be met.
Granville
Located conveniently close to Columbus, Otterbein Granville is characterized by a rich, revitalizing environment with lots of cultural opportunities. As a certified level one arboretum, the campus includes open land with woods, nature trails, a pond, ravines, and meadows that residents enjoy.
Lebanon
The Lebanon location offers a vibrant community with unlimited choices to create your ideal lifestyle. The campus hums with activity, from the life enrichment center to the nearby lake and golf course.
Marblehead
Experience life in a caring community on Lake Erie's scenic shore. Every step leads to something interesting, whether that be on campus, in town, or on the water.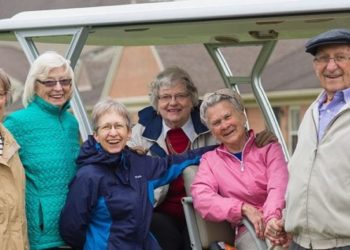 Pemberville
Pemberville offers community members a peaceful valley that's located conveniently near lively attractions. Relax on the friendly, shady campus or head for Toledo to enjoy all the city has to offer.
St. Marys
Are you someone who enjoys laid-back lakeside living with a healthy mix of active outdoor pursuits? From sunrise to sunset on the lake, each day offers the active lifestyle you've been dreaming of.
Sunset House
The moment you walk through the doors of Otterbein Sunset House in Toledo, Ohio, you're greeted by beautiful and comfortable surroundings, warm and friendly people, and a wide variety of opportunities to pursue your favorite hobbies – or discover new ones.
Sunset Village
Daily life at Sunset Village offers variety and spontaneity that you're certain to find irresistible. Sunset Village in Sylvania, Ohio, offers several living options that let you enjoy retirement's unlimited pleasures while spending your time the way you wish.